Welcome to the Spring 2018 session of LLI! 

This Spring, Lifetime Learners offers new instructors and topics, including the Long Island Sound and the U.S. Justice system. We have courses on history, current events, art (both studio and history), rock & roll, literature…and more. Find what catches your interest, and join us. Most courses include a syllabus on this website, so you may gain more detail about what each class will cover.
Now you can register online or use paper to register.
Paper registration: Click here for registration form. You can send your registration and check by regular mail, or drop it off at the office, in the locked wooden mailbox right outside Room W102. Registration by mail or in person must be paid by check; credit cards are not accepted at the office. 
Please note: when you register online, you will not receive an acknowledgement by email–when your registration is confirmed, you will receive a registration receipt by US mail. 
Course enrollment is on a first-received first-enrolled basis. Courses with insufficient enrollment will be cancelled, so please register early. 
We have received reports that LLI's registration page does not work with Internet Explorer using Windows 7 operating system. If that is the system you use, we suggest you use Chrome or Firefox as your browser, in order to register for LLI courses.
Weather Cancellations
If Norwalk Community College is closed, LLI classes and events are cancelled.
NCC's main number 203-857-7000 will have a recorded announcement, and NCC will have the delayed or closing information on their website: norwalk.edu/
Please note: LLI cannot announce cancellations from the LLI Office phone system. 
LLI cancellations will be announced on the day of an event on Cablevision TV Channel 12 News, (look for "Closings and Delays") and on this website www.lifetimelearners.org. 
LLI reserves the right to cancel or postpone any event for any reason.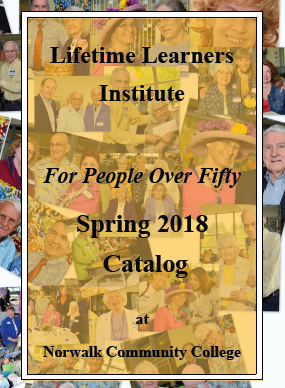 If you are not yet a  member, and would like to receive a catalog, call 203-857-3330 or email info@lifetimelearners.org.
All the information in the catalog is available here on this website, including the membership/enrollment form.