Lifetime Learners Fall 2017 course offerings include

new Saturday courses

, 


more new instructors and an assortment of opportunities for all interests. 

As always, Brown Bag Lunch and Learn are held on Fridays, 
and a 25th Anniversary Celebration on November 3 
(more announcements to come). 
Please note, LLI will not hold classes on the following dates, for Jewish holidays: 
September 21  

September 22

September 29  

Register
Course enrollment is on a first-received first-enrolled basis.
You can send your forms and checks by regular mail,
or place them in the locked mailbox outside room W102.  
Please do not enter the office, which we share with NCC Extended Studies. If you have any questions please contact (203) 857-3330 and leave a message.
Cancellations
If NCC is closed, LLI classes and events are canceled.
NCC's main number (203) 857-7000 will have a recording and NCC will have the delayed or closing information on the main web page.
(LLI cannot announce cancellations from the LLI Office phone.)
LLI weather cancellations are announced on the day of an event on Cablevision Channel 12 and on the website www.lifetimelearners.org. 
LLI reserves the right to cancel or postpone any event for any reason.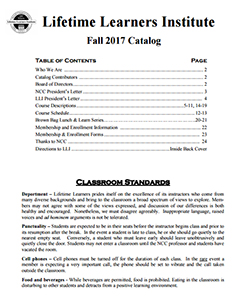 If you are not yet a  member, and would like to receive a catalog, call 203-857-3330 or email info@lifetimelearners.org.
All the information in the catalog is available here on this website, including the membership/enrollment form.